Network University of the Green World
The 2nd World Futures-Creating Seminar
Non-Linear & Chaos-Theoretic Thinking
- New Scientific-Visionary Paradigm -
August 7 - 11, 1994
Goshiki-cho, Awaji Island
Hyogo Pref., Japan

---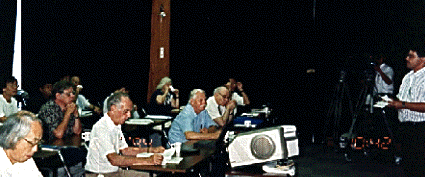 Lecture by Dr. Bishop in the Seminar Class
---
August 7 (Sunday)
Opening Speeches (9:30 - 10:10)

Mr. Mitsugu Saito, Mayor of Goshiki-cho
Mr. Toshitami Kaihara, Governor of Hyogo Prefecture
Mr. Osamu Sunao, Speaker of the Goshiki-cho Assembly
Dr. Hisao Onoe, Advisor of the Network University of the Green World, President of Shiga University

(Memorial Address in honor of Dr. Roger Sperry, Nobel Prize in Physiology or Medicine in 1981)
Keynote Lecture 1 (10:10 - 11:00)
Interaction Society Vision - A Complex Systems Approach to the Future
Dr. Pentti Malaska, WFSF President, Turuku School of Economics, Finland
Nobel Laureate Lecture (11:10 - 12:00)
The Role of Science and Technology in Future Design
Dr. Jerome Karle (Nobel Prize in Chemistry, 1985)
Naval Research Laboratory, U.S.A.
Keynote Lecture 2 (13:00 - 13:50)
Chaos and Complexity - a New Synthesis of Sciences
Dr. George Cowan, Founder of the Santa Fe Institute
Keynote Speech (13:50 - 14:40)
UNU Millennium Project Feasibility Study
Dr. Jerome C. Glenn, Executive Director, American Council for the UNU
Keynote Lecture 3 (14:40 - 15:30)
An Invitation to the Chaos-Theoretic Thinking
Dr. Yoshisuke Ueda, Dept. of Electrical Engineering, Kyoto University
Round Table (15:45 - 17:00) Non-Linear & Chaos-Theoretic Thinking

Dr. Pentti Malaska
Dr. Jerome Karle
Dr. George Cowan
Dr. Jerome Glenn
Dr. Yoshisuke Ueda
Coordinator, Dr. Kaoru Yamaguchi, WFSF Executive Council
Conference Language: English, Simultaneous Interpretation Available
August 8 (Monday)
Seminar 1 (9:00 - 12:00) What are Chaos and Complexities?
Chair: Prof. Tony Stevenson, Queensland Univ. of Technology, Australia

Chaos and the Future of Engineering
Dr. Kazuyuki Aihara, Tokyo University
Chaos and Complexity Researches at the Santa Fe Institute
Dr. George Cowan, Founder of the Santa Fe Institute

Seminar 2 (13:30 - 16:30) Chaos in Physiology and Medicine
Chair: Dr. Kazuo Mizuta, Kyoto Sangyo University

Chaos in Neurobiology and Behavior
Dr. Theodore J. Voneida, College of Medicine, Northeastern Ohio Universities
Chaos and Homeodynamic Approach to Health Care Management
Dr. Takashi Tahara, Hizen National Mental Hospital, Saga Pref.
Conference Language: English, Consecutive Interpretation Available
August 9 (Tuesday)
Seminar 3 (9:00 - 12:00) Chaos in Chemistry and Biologyˇˇ
Chair: Dr. Terushi Tomita, Nihon Fukushi University

The Role of Chemistry in Future Design and the Possible Impact of
Complexity Theory and Chaos
Dr. Jerome Karle, Naval Research Laboratory, U.S.A.
Self-Organizing Information in Microorganisms
Dr. Tetsuo Ueda, Graduate School of Human Informatics, Nagoya University

Free Dialogue (13:30 - 17:30)
Creating 21st Century with Non-Linear and Chaos-Theoretic Thinking
Community Friendship Afternoon on the Tsushi Beach
Over-Night Camping of Overseas Seminar Students
Conference Language: English, Consecutive Interpretation Available
August 10 (Wednesday)
Seminar 4 (9:00 - 12:00) Chaos in Engineering Researchˇˇ
Chair: Prof. Linzheng Qin, Chinese Academy of Social Sciences

The Impact of Chaotic Phenomena in Electrical Engineering
Dr. Yoshisuke Ueda, Dept. of Electrical Engineering, Kyoto University
A Framework for Understanding Engineering Dynamical Systems
based on a Nonlinear Approach
Dr. Steven R. Bishop, Centre for Nonlinear Dynamics and its Application,
University College London

Seminar 5 (13:30 - 17:30)
Chaos in Economics, Scientific Research and Futures Studies
Chair: Richard Slaugher, Dept. of Education, University of Melbourne

Harnessing a Chaotic Price Movement in Market Economy
Dr. Kaoru Yamaguchi, Nagoya University of Commerce
Chaos and Scientific Research in Russia
Dr. N. Gaponenka, Center of Science Research and Statistics, Russian Academy of Sciences
Conscious-Technology and Future Mind: A Post-Information Age Future
Dr. Jerome C. Glenn, Executive Director, American Council for the UNU
Conference Language: English, Consecutive Interpretation Available
August 11 (Thursday)
Closing Session (9:00 - 10:30)

Closing Speech: Mr. Mitsugu Saito, Mayor of Goshiki-cho
Award of Seminar Certificate
Summary of the 2nd Seminar and the Announcement of the 3rd Seminar
Dr. Kaoru Yamaguchi, Vice-Chairman of the Network University Executive Committee

Bus Tour around Awaji Island (10:30 - 16:30)
***********************************
Live-in Workshop 1 (17:00 - 20:00)
Participants of post-seminar workshop move in a log house located near the beach on the east side of the island.
August 12 (Friday)
Live-in Workshop 2 (all day)

Establishing a Higher Degree Futures-Oriented Curriculum for the Network University of the Green World - A Proposal, Dr. Kaoru Yamaguchi
Individual Presentations and Discussions
Work on Progress
August 13 (Saturday )
Live-in Workshop 3 (all day)

Establishment of a Basic Framework
Further Work on Progress
Workshop Language: English Only
---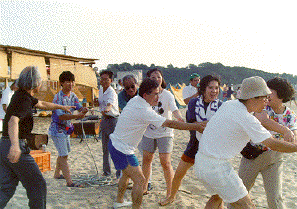 Party on the Tsushi Beach, Net-Fishing in the Bay
---

A Moment of Retreat during the Post-seminar Workshop '94
---
FOCAS Seminar Series